One case of breast cancer is diagnosed in the U.S every two minutes. Yet, despite these statistics, no one is ever truly prepared to receive a breast cancer diagnosis and many feel completely blindsided by it. Susan Brown, Senior Director of Health Information and Publications at Susan G. Komen shares the story of her recent diagnosis during the COVID-19 pandemic.
About Susan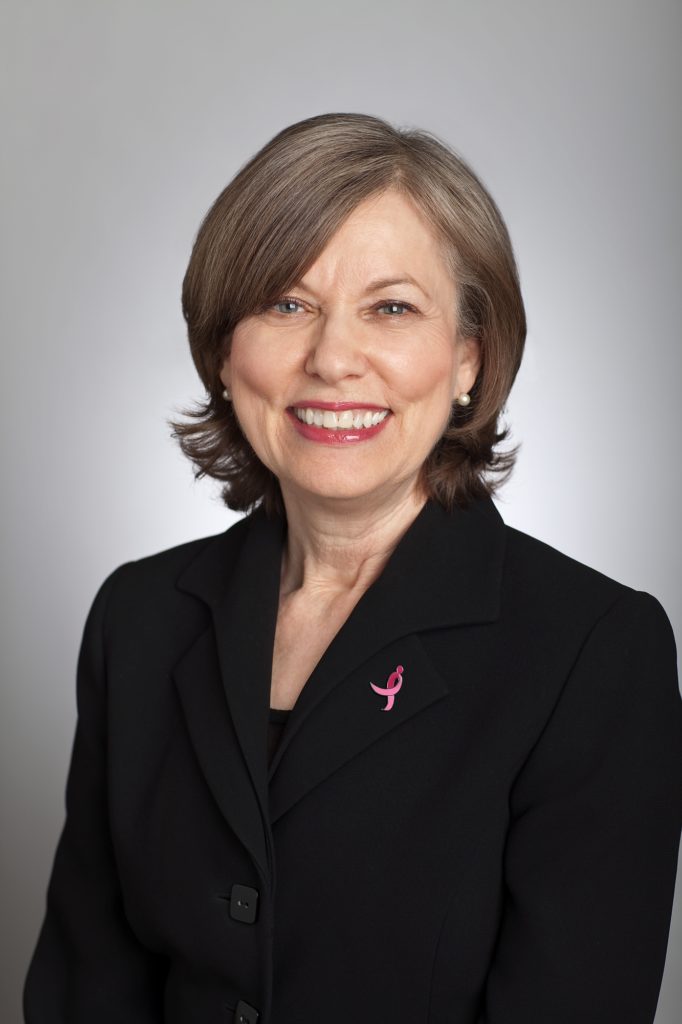 Susan Brown, M.S., R.N.
Senior Director, Education & Patient Support
Susan has been with Susan G. Komen® since 2000. She currently holds the position of Senior Director of Education & Patient Support. Her team is responsible for providing relevant breast cancer and breast health information to the public and Komen Affiliates through multiple venues. She oversees the design, development, implementation, evaluation and coordination of educational materials, programs, and projects. She works internally to ensure that Komen's breast cancer messages are safe, accurate, current, evidence-based and consistent. In addition, her team oversees patient support services. These services include the Komen Breast Care Helpline, the Komen Clinical Trial Helpline, the Komen Treatment Assistance Program, and a portfolio of educational grants. She collaborates with leadership in breast health and breast cancer organizations to penetrate target markets and create educational initiatives for designated populations.

In addition, she represents Komen as a spokesperson and content expert for national and international audiences. She has represented Komen at meetings and conferences and made presentations in Africa, Asia, Australia, Europe, South America and The Caribbean. She served as a panelist in the first Middle East North Africa Breast Care Conference and conducted training for community outreach in Dubai for master trainers from 12 international companies in the Middle East. She conducted training in Amman, Jordan on how to start support groups and training as part of the U.S. – Middle East Partnership for Breast Cancer Awareness and Research, facilitated a worksite 2-day train the trainer workshop in Dubai, presenting breast health information to a group of young university women in Abu Dhabi, and led breast cancer training for ancillary health care professionals at King Hussein Cancer Center in Amman, Jordan and facilitated training for health educators in Riyadh, Saudi Arabia.

She has participated on numerous committees, advisory boards and workgroups for advocacy organizations, government agencies and industry focusing on many topics related to breast cancer and has made oral and poster presentations at national conferences, co-authored several articles, and served as nurse faculty for Train-the-Trainer programs for the International Society of Nurses in Cancer Care.
Prior to Komen, she worked as a professional registered nurse in oncology, focusing on breast cancer exclusively since 1987. She is a member of the Oncology Nursing Society.
Transcript
Adam (00:01):
In the United States, one in eight women will be diagnosed with breast cancer in her lifetime. And one case of breast cancer is diagnosed every two minutes yet, despite these statistics, no one is ever truly prepared to receive a breast cancer diagnosis and many feel completely blindsided by it. Today's guest is a special one. She is a part of the Susan G Komen family as the Senior Director of Health Information and Publications. And yet she was not exempt from this disease today to share what transpired in the recent months and why it's so important to keep up with your screenings. Even during this pandemic as Susan Brown, Susan, welcome to the show.
Susan (00:41):
Thank you so much for having me.
Adam (00:43):
It's so good to see you again, and I enjoyed our conversation last time. And so glad to have you back. Tell us a little bit about yourself and why we're featuring you on the show today.
Susan (00:53):
I have an oncology nursing background, so I worked in inpatient oncology a long time ago. And then I worked on in a women's diagnostic and imaging center for a dozen years or so where I talk to women all day long, coming in for mammograms, having biopsies and so forth, helped run support groups. And then I've been at Komen for 20 years. And my team, as you said, of really is responsible for the breast cancer content associated with our name on our website. We want to ensure that we're providing safe, accurate current evidence-based information that people can use as they're making important breast care decisions for themselves. And then also as they advocate for others.
Adam (01:37):
That's great. That's great. And so in March, you talked to us about prioritizing safety and health during COVID-19, and I know that you've talked on various platforms about how important it is to stay on top of your screenings, even during this time. And I'm told that you took your own advice and you scheduled your own annual mammogram this summer. And can you take a second, just walk us through what happened next?
Susan (02:00):
So I was due for a routine screening mammogram in April, but at the time experts were advising to delay routine screenings because of the pandemic out of concern for limited resources and facilities, and also to decrease the risk of exposure to COVID-19 by June. Some of the centers were opening up and experts were then concerned about delays in screening concern that these delays would lead to higher mortality in the coming years. If people continue to delay their screenings or skip them altogether this year. So I called to get an appointment in mid June. I've been going to the same facility for 30 years, and that's actually where I worked for a dozen years. But for the first time I had to wait about a month to get an appointment. I think just that because of the backlog due to being restricted in the number of patients they were seeing.
Susan (02:53):
So I went back and I got a mammogram to get a mammogram and mid-July, I was called back for additional views due to microcalcifications got the additional views. And then I had a stereotactic core biopsy, which showed that I had DCIS, which is ductal carcinoma inside too. So I saw a surgeon, I went for genetic counseling and genetic testing had a breast MRI and scheduled breast surgery. I had the lumpectomy and at the pathology after the lumpectomy showed that I did have a really small area of invasion. So I had stage one breast cancer. So I saw a medical oncologist, a radiation oncologist. I had other tests, I had other imaging to plan for radiation therapy. I had 20 sessions of radiation therapy and then started on a five-year course of endocrine therapy.
Adam (03:43):
Wow. That is, that is quite the journey from our last conversation until now. And so I have to wonder, you know, someone that knows more about breast cancer than most of us, as you said, you're responsible for the information that Komen is putting on the website, which is just so valuable. What was that moment of diagnosis like for you?
Susan (04:04):
I'm a little kind of flicked at about how to answer that question. Honestly, I wasn't ever fearful or upset for myself. I knew I had access to high-quality care. I made, this was an early diagnosis. I had a good prognosis and treatments weren't going to be that hard, that I was really concerned for others, for my family and my friends. I may, they would be upset and worried. And so I really went on a campaign to reassure them with information. I had delivered to so many people during the course of my career. Right. You know, on the one hand I really was somewhat surprised, but I also knew why not me, tens of thousands of women are diagnosed every year. So why wouldn't I be one of them.
Adam (04:52):
Yeah. Yeah. That makes sense. And so I'm also curious if you don't mind me asking, I mean, do you have a history of breast cancer in your family?
Susan (04:59):
Yes, I do. And I've known about breast cancer since I was just a little girl. One of my mother's sisters was diagnosed when I was seven or eight years old. It was in the 1970s and she had a radical mastectomy and cobalt therapy. It was really extreme treatments that we don't even offer anymore. And then I had a cousin on my dad's side who was diagnosed when I was in junior high and she was young. She was in her early forties and she had eight children and she died within a year or two of her diagnosis later. I had a cousin on my dad's side and then my mom was diagnosed with breast cancer. They were both in their sixties and they had an early with early disease and they retreated and they did fine after that. So I knew I was at higher risk, but even having been called back for additional views several times through the years and having had a biopsy 12 or years ago, I somehow didn't worry about having, having breast cancer myself. But what I did do is go every year for my annual screening mammogram.
Adam (06:06):
Right. Yeah. That makes perfect sense. So a lot's happened in a very short amount of time. I mean, how are you doing
Susan (06:14):
Honestly, I'm doing great. It's taken me till now really to realize that that term breast cancer survivor applies to me. I wore a pink survivor. T-Shirt at the Komen Dallas more than pink walk in October. And that really felt like a big step for me. And I dated my medical history with that information at my dentist office last week. And I'll know, I'll do the same when I see my internist next month. I guess I can just use my voice now to speak from my own experience, which may lend me another layer of credibility to my work. But overall I I'm doing great. I have nothing to complain about.
Adam (06:53):
That's great. So I want to just for a second, go back, you know, you talked about how it took you several months to get your screening and how there were, it was during COVID. And so I assume there's new protocols in place. I'd love for you to just share with us. What was that experience like, you know, getting the screening during the pandemic, what were, were there any new procedures, any new protocols that our listeners might need to know about?
Susan (07:14):
Well, I noticed so many new procedures when I went in for that screening and actually in subsequent visits, numerous subsequent visits that had been put into place really to reduce the risk of exposure to COVID-19. First of all, there was pre-registration by phone. And I got to the facility, the Gates to the parking lot were up, you know, no pushing buttons, no polling tickets, no paying upon entry to the building. I was asked a number of questions about exposure and testing and temperature and how you're feeling and all of that and was asked to use hand sanitizer was asked to replace the mask I was actually wearing with a new mask, had my temperature taken, then got to the screening facility itself. And there was automatic automated check-in at a kiosks is to really reduce the, the interaction with staff. And then previously within this center laced you would change your clothes in a dressing room and be given a locker with a key to put your clothes. Instead, this time I was given a little plastic bag, put my clothes in to avoid even touching locker key or anything like that. So there were a lot of changes, a lot of new procedures and protocols that were visibly in place, you know, when I went back for that screening mammogram,
Adam (08:30):
Wow, that's really helpful information. Thank you for sharing that. And so Susan final question, knowing what you, what you've been through, what do you want our listeners to know?
Susan (08:40):
I want them to know that they can just do what they can do, right? And one of the things they can do is learn about their family history because that can help inform their own risk and then, you know, ask them to take advantage of the tools and the resources we have for today. So I'd encourage listeners to get a mammogram if they're due for one, and if it's safe in their communities, I'd encourage them to do what they can to reduce their risk, which is, you know, controlling their weight, exercising, limiting alcohol use, and the use of menopausal hormones breastfeeding. If you can, just to to do what you can. One other thing I'd like to just add is that I am so grateful to the women that have come before me through the years who participated in research. We know that mammograms can detect cancer very early because of research, we know about treatments for the different stages of breast cancer and the different types of breast cancer because of research. And we, none of that research would be possible without people who have agreed to participate in clinical trials. I have benefited so greatly for that. And it's because of those heroes that came before us, that we have all of that, the knowledge and the information to give care today. And I'm so grateful for their courage and willingness to contribute in this way. And really it's impossible to overemphasize the value and the importance of their contribution.
Adam (10:10):
Wow. Well, Susan, thank you so much for, for all that you shared with us for letting us have a view into your world and what you're, what you're going through. So thank you for your time on the show today.
Susan (10:21):
Thanks so much for having me on join it.
Sponsors
This episode is sponsored by Amgen Oncology.

At Amgen, we are committed to the relentless pursuit of breakthroughs for cancer patients and their families. We have a deep and diverse pipeline of cutting-edge therapeutic approaches that aim to improve outcomes.
Amgen has been pursuing novel treatment approaches for more than 40 years.

We never stop looking toward the next frontier of innovation to bring the greatest potential benefit to patients.