Real struggles.
Real help.
Real courage.
Real Pink is taking real conversations about breast cancer from the doctor's office to the living room. Hosted by Adam Walker, episodes feature candid conversations with survivors, researchers, physicians, and more. Find answers to your toughest questions and clear, actionable steps to live a better life, longer. At Real Pink, compassionate storytelling meets real inspiration, and real support.
Breast Cancer Resources
Find the information you need.
Risk Factors
Understand the factors that may affect your risk of getting breast cancer.
Screening & Detection
Screening tests are used to find breast cancer before warning signs or symptoms.
Diagnosis
Learn about the process of diagnosis, follow-ups, and factors that affect prognosis and treatment.
Treatment
Learn about treatment for early and locally-advanced breast cancers (stages I, II and III).
Financial Assistance
Here you'll find resources to help with financial concerns.
Tools and Resources
Here you'll find information about our helpline, as well as resources and interactive tools.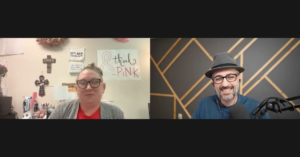 If you have a history of breast cancer in your family, learning about your risk can empower you to make important breast care decisions to take charge of your health. Today's guest has a strong history of breast cancer in her family but was still not prepared to find a lump at the young age of 32. Here today to share her breast cancer story, how she learned to self-advocate, and the importance of educating her daughter about her breast cancer risk is Courtney Parker.
Listen Now

→

Join Our Mailing List
Get the latest breast cancer news and information, and updates about Real Pink.