Real struggles.
Real help.
Real courage.
Real Pink is taking real conversations about breast cancer from the doctor's office to the living room. Hosted by Adam Walker, episodes feature candid conversations with survivors, researchers, physicians, and more. Find answers to your toughest questions and clear, actionable steps to live a better life, longer. At Real Pink, compassionate storytelling meets real inspiration, and real support.
Breast Cancer Resources
Find the information you need.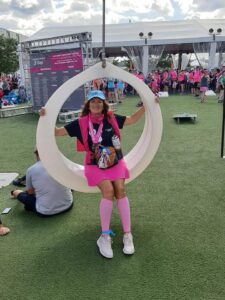 The bones are the most common sites of breast cancer metastases, which can damage your bones. This is an issue that effects over 70% of people living with metastatic breast cancer. Fortunately, there are medications that can strengthen and protect your bones, which can reduce this damage. Here today to share her breast cancer journey and how she protects her bones while living with bone metastases is Kim Crist. Kim, welcome to the show!
Listen Now

→
Join Our Mailing List
Get the latest breast cancer news and information, and updates about Real Pink.