Our guest today knows first hand how important it is to stay on top of your breast health. Fashion designer Betsey Johnson was diagnosed with breast cancer 21 years ago and is here to share her story.
Today is our 100th episode of Real Pink and we'd like to take this opportunity to thank all of our listeners and amazing guests that we have on the show for their support and partnership in working towards our mission of saving lives and finding the cures for breast cancer!
About Betsey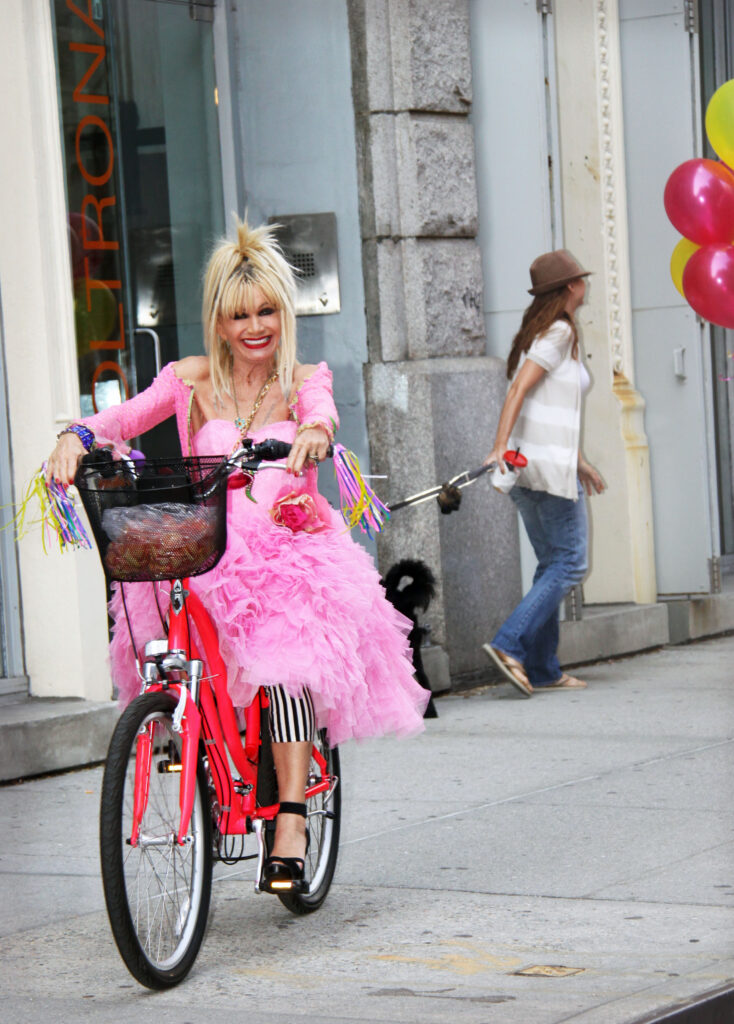 Known for her celebration of the exuberant, the embellished and the over the top, Betsey has been rocking the fashion industry with her unique and original designs since the 1960's. Her commitment to remain true to her one-of-a-kind vision has afforded Betsey continued success in an industry known for its fickleness. Her ability to change with the times while keeping her designs pure has not gone unnoticed.
What would soon become known as Betsey's trademark look began its formulations here: sexy silhouettes, hippie inspired flowing fabrics, whimsical detailing and most importantly, a fabulous fit.
Betsey Johnson, both the woman and the label, is constantly moving forward and continues to keep a strong foothold in the fashion industry with no signs of letting up anytime soon. Her love of detail and design is evident in everything she does in life and in business. Her enthusiasm, creativity and boundless talent that have kept her at the forefront of fashion for the past 45 years will keep Betsey going for years to come.
As one journalist recently quoted, "If Betsey Johnson didn't exist, we would have to invent her, simply to remind ourselves that fashion can be fun. She's the original wild child and set to paint the town pink!"
Transcript
Adam (00:03):
From Susan G Komen. This is Real Pink, a podcast exploring real stories, struggles, and triumphs related to breast cancer. We're taking the conversation from the doctor's office to your living room . While Valentine's day is a day for expressing your love for special someone, Galentine's day was created specifically to celebrate friendship and admiration for those, you know best – your girlfriends.
Adam (00:28):
This Valentine's day encourage the important woman in your life to put themselves first, understand their breast cancer risk and speak up. It's important to get comfortable talking about breast health and be empowered to talk to your doctor or healthcare provider, if something doesn't seem right. Our guest today knows firsthand how important it is to stay on top of your breast health. Fashion designer. Betsy Johnson was diagnosed with breast cancer 21 years ago, and is here to share both her story since she was diagnosed. Let's dive in, because I want to hear about your breast cancer experience. So tell us a little bit about your breast cancer experience. When were you diagnosed with breast cancer and what was going on in your life at that time?
Betsey (01:18):
I think I have the funniest cancer story ever. If any story can be funny. Now, I, I was cancer-free 1999, New Year's Eve. So 10 years before that I got silicone boobs and one day I know it was summertime. I get up to get my massage, put the towel under my boobs and the masseuse comes over and my left boob was gone. So yeah, I go to sleep with two boobs. I wake up with one boob. I go to the doctor. So then they said, well, what do you want to do? You got one good boob and you got one bad boob. I decided get the other one out. And let me get back to normal, which is all of a sudden the healing process from the little scars, you get a little scar underneath your boob, if that's where you want it to come out from.
Betsey (02:17):
And all of a sudden I felt along with the scar tissue, I felt little, tiny, tiny half the size of a pea. It was something, I didn't know what the little something was. So I went back to the doctor and right away, he's like, you're not my category. Let me send you to a cancer doctor. And they wanted to take a little biopsy to see what was going on. And the day that I had the doctor appointment to get my, your negative, your positive was the day of my company, Christmas party. And it's always a big, fun company, Christmas party. So I came from my doctor's appointment where I find out, yes, I do have cancer to the Christmas party. And on the way, home in the taxi, I had to figure out how I was going to deal with this. Luckily, my little tiny bump was like a little tiny tumor, little, little tiny one.
Betsey (03:27):
The kind where if you get your mammograms early enough, they can detect this. Yeah. So that's my thing. But luckily that year, so I didn't tell anyone from fashion show in February till the next fashion show week was September and the fashion industry supports breast cancer to the hilt. So I said, you know, Fern, she was the president of the council of the fashion designers of America. I said, fair. And I have a little, I have a secret, but I don't want to keep it a secret anymore. Could I take the mic at the beginning of the ceremony and tell my little story? Because for the last six months I've been getting through my breast cancer and got amazing support at the opening of fashion show week.
Adam (04:24):
Yeah, that's great. Wow. And how's that affected your experience with how you talk to other women about their breast cancer and about, about breast health in general?
Betsey (04:35):
I wanted the opportunity to talk about it and that's why it was so incredible because I'm dealing with young girls and women. They connect with me. I can connect this with them. My daughter has been through double mastectomy. I know two or three girls that know they have that gene Brocka gene. So they had the courage to have double mastectomies. And I just kept keeping up with, get your mammogram, get your mammogram, get your mammy. And then it just became a very popular kind of thing. So I started to do whatever I could to support breast cancer.
Adam (05:19):
Wow. That's fantastic. So, you know, there are people that listen to the podcast that, that may have a breast cancer diagnosis or family with breast cancer. Is there anything that you'd like to say to them, any encouragement or words of wisdom you'd like to share with them?
Betsey (05:33):
Well, I think being optimistic is 98% of the gig. I mean, you can fight, fight, fight, but your mind's got to be positive or you get nowhere. And it's hard. It's hard to do that, but you got them, you have no choice. You know, you see the light and with the same way with cancer is you have to see that it's something you go through and hopefully something you drive away from.
Adam (06:03):
The last question. Why do you feel it's important to partner with Susan G Komen on this?
Betsey (06:08):
Well, you know, Komen called me because I think they said wow, Betsy's got breast cancer. She's doing this and now let's try and get some kind of collaborative partnership going on over the last 20 years, 10 years. I don't know how long it's been. I would say yes. Yes, yes. Cause it's my favorite charity to support personally, financially that, that and the first thing I was asked to do, you know, she has those huge walks in central park. They asked me to kick off the walk on the street, doing a Cartwheel and a split, which has always been my thing, although I'm trying to drop the Cartwheel a bit now, but so there are 10,000 people waiting to run behind me, which was an honor. And I've just kept up with the Komen family for years.
Adam (07:11):
That's great. Yeah. Well, Betsy, this has been great. I really appreciate your time today.
Sponsors
This episode is sponsored by Ford – Warriors in Pink.