Even though you cannot change your genetic makeup, knowing your family health history may help you understand your personal breast cancer risk. Today, we'll learn about how to better understand your family history, how that may impact your risk of breast cancer, and how to make better informed choices. We're going to help empower you to take an active role in decision-making about your health.
About Charmaine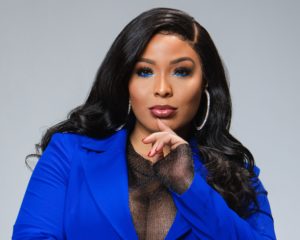 Charmaine Johnise is a small-town girl with a big personality. From an early age, the Slidell, Louisiana-born Southern girl has possessed an infectious energy that captures the attention of any room she enters. However, she is more than just a social butterfly. Charmaine has matched her magnetic presence with a consistent drive that has propelled her to stardom. After graduating from Howard University, her corporate ambitions led her to Chicago — where she held positions at CBS and the then-start-up Groupon. Soon after Charmaine's foray into the corporate world, she got her big entertainment break as a cast member on VH1's "Black Ink Crew: Chicago". Her gregarious spirit made her a fan-favorite on the show. As a result, Charmaine has cultivated a huge following across all social media platforms. She has continued to expand her brand into several other areas of entertainment: landing a role in a Netflix-exclusive series, serving as a host for IHeartRadio concerts, and leveraging her role as a highly visible influencer to work with hundreds of established brands for marketing and promotion collaborations. Charmaine has also parlayed her natural exuberance (which made her a standout on "Black Ink Crew: Chicago") into a burgeoning YouTube channel and a deal with iHeartMedia, Inc as the host of her own show on 107.5 WGCI – the most popular Hip-Hop and R&B station in Chicago. Charmaine can be seen and heard interviewing the biggest names in entertainment on Saturdays and Sundays from 10 AM to 2 PM on WGCI and also on her "All Things Charmaine" YouTube channel — where she also produces beauty tutorials, celebrity interviews, and the ever-popular "Cooking with Charmaine" segment. A few of her best interviews are with entertainers 2 Chainz, Yo Gotti, Nipsy Hustle, Bone Thugs N Harmony, HER, G Herbo, Bibby, and Jennifer Hudson. Charmaine is an undeniable rising star in the industry!
Follow Charmaine on Twitter and Instagram.

Transcript
Adam: 00:00 Even though you cannot change your genetic makeup, knowing your family health history may help you understand your personal breast cancer risk. Today we'll learn about how to better understand your family history, how that may impact your risk of breast cancer, and how to make better-informed choices. We're going to help empower you to take an active role in decision making about your health. To help us better understand your family health history, which helps us better understand our health risks. Let me introduce Charmaine. Charmaine, welcome to the show.
Charmaine: 00:29 Hi Adam. How are you?
Adam: 00:30 I'm fantastic. How are you?
Charmaine: 00:32 I'm doing well. Thanks for having me on your podcast.
Adam: 00:35 Well, I'm excited to chat with you. Can you just give us, give us a little bit of your bio, tell us about yourself.
Charmaine: 00:40 Yes. Well, I'm Charmaine. A lot of people know me from Black Ink Crew Chicago. I'm on WGCI iheart radios, very own. So, VH1 people like tune in and watch me on black 00:52. I feel like that's where majority of people know me from. But I also have a YouTube channel that I cook on. So I have some great recipes if you ever want to share them one day.
Adam: 01:04 I was already checking that out earlier. I appreciate that.
Charmaine: 01:08 Yeah, I can always feel free to ask me anything about cooking cause I got you. But I'm so glad you know. Thanks so much for having me to be a part of Know your Girls ambassador and I'm just happy to be able to talk to my black women, especially about taking charge of their breast health.
Adam: 01:26 That's right. That's right. Well let me, let's start there. Let's dive in. You mentioned Know Your Girls. Tell us a little bit about the Know Your Girls campaign and your connection with Susan G Komen.
Charmaine: 01:34 Yeah, so my connection, I have a family history of breast cancer and being able to be a part of Know Your Girl's as an ambassador really means a lot to me because it's something I can identify with. And like I said earlier, like a lot of people know me from Black Ink Crew but they don't know like this personal side of me. So that's why I wanted to partner with Know Your Girls, really to like let my fans know more about something that I care about as a person versus just like who they see on TV and being a black woman especially, it's so important that we know our risks cause a lot of us, you know, don't pay that much attention to it. So it's like, you know, we're more likely to be diagnosed at a younger age. That's a huge risk and also like more aggressive forms of cancer. So just being able to be a part of Know Your Girls and just talking about like how important it is for early detection. Like I would just think that's super important.
Adam: 02:34 Yeah, totally agree. Totally agree. And I know that uh, at a young age you lost two of your aunts to breast cancer. Can you tell us a little bit about how that affected your, your view of breast cancer and your own view of your own health?
Charmaine: 02:45 Yes. I lost two aunts and then I've also launched both of my great grandmothers. So, you know, I wasn't obviously around when my great grandmothers had got breast cancer, but as far as my aunt was concerned, I saw how quickly cancer can take someone away from you. It was just like they were diagnosed and like a couple of months later, you know, they passed away and it just, so that was my first introduction to breast cancer. So it runs in my family very deeply and it was just like a super scary situation like going through it, especially as a young child. It's just like, you know, you kinda really freak out and you don't really understand it. So I just was so sure that it was like something that I was just going to get, you know, like you can't really help it or something like that. I never thought, okay, well there are steps that you can do to help you like getting your mammograms and just taking good care of your health in general but as an adult, having the Know Your Girls campaigns, talking about it with my friends and I realize it doesn't really have to be such a scary thing. Like you're in control, you can take charge. And it taught me how important prevention and early detection are but also it's very important, you know, just to take care of yourself as a whole.
Adam: 04:08 Yeah. So let's talk a little bit more about that. How, how do you go about taking care of yourself as it relates to breast cancer, breast health as a young woman?
Charmaine: 04:17 Well, definitely getting mammograms, getting checked and also, you know your breasts. Okay, well maybe not you Adam.
Adam: 04:28 Fair enough.
Charmaine: 04:29 No women know their breasts. So like you're never too young just to like start the conversation one, start the conversation, like with your peers and with your family and definitely talking to your doctor. Like I made sure that my doctor knows about my family history. Like I have multiple different doctors for different types of things, but they all know about my family history so you know, they can recommend what is best for me as far as like screening options and I make sure that I know my breasts. Like I know my normal, I know what my breasts feel like. You know, the first sign of something changing, like definitely letting your doctor know because obviously like knowing your breasts can save your life. Like it's very important.
Adam: 05:18 That's right. That's right I appreciate, I really appreciate you sharing that. So you've got a pretty busy career going, Black Ink, Chicago hosting for 107.5 WGCI and iHeart radio and you've got your All things Charmaine YouTube channel and I'm told that you're also planning a wedding on top of all that. Is that right?
Charmaine: 05:37 Something like that, you know,
Adam: 05:40 How do you balance all of that and also take care of yourself at the same time?
Charmaine: 05:45 You know, definitely finding time for myself, doing what makes me feel good and taking out time. Like what I like to do something to de-stress. Like it could be working out, or I could just take out time and just spend time with myself, like by myself since I'm always like around so many people really just like maybe reading a book or you know, doing some yoga. And I have two French Bulldogs that I love so much. So playing with them, you know, taking them out. They're my kids right now, so like taking them out and doing you know, things with them or doing stuff with my husband, I'm definitely taking that time. Whatever makes me happy, like making sure I take time out for myself for that and eating healthy. That's very important. You know, trying to keep a balanced diet and even if like I'm travelling or like, you know, super busy, I try to prepare my meals and like take them with me just to kind of keep me on track.
Adam: 06:43 Yeah. I love how you mentioned like preparing your meals ahead as you're travelling because w when you're travelling or even just eating from work, it's really hard to eat healthy if you're just going to go out but I find personally that if I'm thoughtful about, if I prepare ahead a little bit, if I even know the restaurants I'm going to be around, it becomes a lot easier to be healthy in those meal choices.
Charmaine: 07:02 Meal prepping is key and it takes a little time to do it in the beginning, but it's worth it throughout the week
Adam: 07:09 And it makes all the difference and it makes all the difference in the world n your health, you know. All right. So what advice would you offer to someone who wants to sit down with a friend or a family member and have a conversation about breast health? Like where should they start?
Charmaine: 07:23 For me, I can like give you my personal example. In the beginning, it was a scary thing, but as I grew up, it shouldn't be so taboo. It shouldn't be scary at all. It's a natural conversation and you've got to know the medical history of your family. So it's super important to talk to your mom, your aunt, like you know, anyone in your family or cousins and even teach the younger generation how they can also like be aware of their breast health.
Adam: 07:52 Right.
Charmaine: 07:53 And then like once you get past that step, it's like, okay, I should get this checked out earlier versus waiting until like a certain time. Like if you feel, you know, any change at all, like getting checked out, I don't think people should wait for 40 years old because black women, we are being diagnosed with breast cancer at an earlier age. I definitely like would not wait till 40 both women go to the gynaecologist checks for their breasts as well. So there are ways that you can check your breasts. So I just think that being aware of how to check your breasts, talking to your family because obviously everybody wants to live a healthy and long life. So that's super important.
Adam: 08:38 That's right. That's right. Well Charmaine, this has been such a great conversation. I really appreciate your insight and taking the time to chat with us today. Do you have any final thoughts that you want to share with our listeners?
Charmaine: 08:50 Well, Adam, thanks so much for having me. Such a great time to talk about this. It's so important to me and anyone that wants to know more about me can follow me on social media. charmainej_tv or you can also tune in to Black Ink Crew Season 6 that'll happen in December or me out on the radio iheart radio. You can download the iheart radio app and the station is WGCI 107.5
Adam: 09:16 All right. Well, Charmaine, thanks so much. This was great.
Charmaine: 09:19 Yeah, thanks Adam.

Notes
Intro and outro music is City Sunshine by Kevin MacLeod. Ad music is Blue Skies by Silent Partner. The Real Pink podcast is hosted by Adam Walker, produced by Shannon Evanchec and owned by Susan G. Komen.