Undue stress may be experienced by anyone during this pandemic, especially by those more vulnerable to COVID-19. Komen's Breast Care Helpline can help provide information, social support and help with coping strategies related to anxiety or concerns during these uncertain times. Here to share some of the most common questions and concerns across the breast cancer community is Marissa Fors, Director of the Komen Breast Care Helpline.
To reach the Komen helpline call (1-877-465-6636) or email at helpline@komen.org.
About Marissa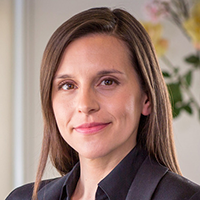 Marissa Fors, LMSW, works directly with people diagnosed with breast cancer, caregivers, and other loved ones at CancerCare in New York City. As an oncology social worker, Marissa specializes in providing supportive services and resources to men and women with breast health or breast cancer-related questions or concerns. She is proud of her experience providing support services face to face, over the telephone and online in both individual and group settings. She has facilitated support groups for specific breast cancer populations including ones designed for: Metastatic Breast Cancer Patients; Men Diagnosed with Breast Cancer; and Young Adults with Breast Cancer.
Marissa earned her Master of Social Work (MSW) degree at New York University and earned her Bachelor of Arts degree in Psychology from Adelphi University. She has Post-Graduate trainings in Advanced Assessment and Diagnosis, Oncofertility and Clinical Supervision. She is a member of both the National Association of Social Workers (NASW) and the Association of Oncology Social Work (AOSW).
Transcript
Adam (00:00):
Help is needed now more than ever. Susan G Komen established the Komen COVID-19 action fund to support urgent needs among our breast cancer community today. Whether it's providing answers and counsel for those who can't see a doctor in-person to those that need financial or treatment assistance, visit https://www.komen.org/covid and donate today.
Adam (00:22):
Support for real pink comes from Genentech, a member of the Roche group who pursues groundbreaking science to discover and develop medicines for people with breast cancer. Learn more at gene.com that's gene.com.
Adam (00:32):
From Susan G Komen, this is Real Pink – a podcast exploring real stories, struggles, and triumphs related to breast cancer. We're taking the conversation from the doctor's office to your living room.
Adam (00:52):
Undue stress may be experienced by anyone during this pandemic, especially by those more vulnerable to COVID-19 Koman's breast care helpline can help provide information, social support and help with coping strategies related to anxiety or concerns during these uncertain times here to share some of the most common questions and concerns across the breast cancer community is Marissa Fors, director of the Komen breast care helpline. Marissa, welcome to the show.
Marissa (01:21):
Hi. Yes, thank you for having me.
Adam (01:24):
I'm really excited to talk to you for two reasons. One because I think what you do is really important or the breast cancer in the breast care community and two because I'm really interested to hear what you have to say related to COVID-19 so before we dive in, tell me a little bit more about your story, how you got involved with the breast cancer community as well as an overview of the function of the Komen breast care helpline.
Marissa (01:48):
Well, my name is Marissa Fors and I am an oncology social worker. And like you said, the director of the Susan G Komen breast care helpline, the breast cancer community has always been very near and dear to my heart. I feel very passionate about being able to give back and be a part of something so meaningful to so many people. And as an oncology social worker, my purpose and my passion has always been working with and helping others. And the Komen helpline is available to do just that. So really to be there for others and to provide help and assistance. So I'll tell you a little bit about what we can offer. We are able to go over information on breast health and breast cancer. We provide support to anyone with questions or concerns. That can be emotional support being there to talk so you're not alone. It can be creating a safe space to express any questions, thoughts, or concerns without judgment and to assist in developing coping together. We can also help you feel more empowered to get the most from talking to your healthcare team, improve communication and overall make someone feel more confident and gain back some of that control. We can locate both national and local resources that may provide financial assistance, support groups or other services including low-cost mammography.
Adam (03:28):
Wow, that's fantastic. So a lot of support on one line. That's amazing. I love that. So I understand that you're receiving a pretty high call volume right now related to COVID-19. I understand that the underlying theme is that a large percentage are dealing with how to manage anxiety, fear and uncertainty related to the isolation that we're, we're all experiencing. So can you just share some tips and resources with our listeners in regards to that?
Marissa (03:56):
So right now I would say most people are impacted in some way by the overwhelming amount of information available about the Coronavirus. These fears are very normal and very common. Lives have shifted for some quite drastically in what seems like overnight information changes from one day to the next. So I think it would be hard to not feel some anxiety and uncertainty with all of these adjustments. Additionally, social distancing, we all heard that term. So social distancing can bring about feelings of isolation that either weren't present before or increased any loneliness. Someone may have already been feeling for the breast cancer community especially, it may hit even harder as many could be considered a higher risk either for exposure or getting sicker if exposed. Which brings about even more uncertainty. Yeah, so we got calls to the helpline about these concerns every day.
Marissa (05:02):
Although it may feel like there is a lot that is really out of their control. My biggest tip would be really a how to gain some of that control back. Okay. All right, so the first thing you can do, and sometimes it's easier said than done, is to control the information you are receiving. If watching the news makes you more anxious, turn it off. Instead turn to things that bringing more happiness or some sense of calm. Really take care of yourself as best as you can physically, emotionally, and spiritually, and make sure you are still connecting with others. I think that's the most important. Yeah, and I think, you know, remember you might need to get creative in the new ways you enjoy your favorite hobby or the way you get exercise or the way you connect to others. So for now and you know, especially through the overwhelming generosity of so many you can go online and find ways to exercise or connect through video chats, for example, many times with no cost, which I love.
Adam (06:12):
Yeah, that's right. Yeah. I mean, I know there's a lot of the video chat apps are free right now. I will say too, and I won't mention any specific brands, but there are a lot of online exercise apps that are monthly subscriptions that are now free for several months. So that's a great way to get some really good exercise right now.
Adam (06:29):
What are some of the other common calls that you're receiving? You're in this time and what are some tangible actions that people can take?
Marissa (06:37):
Well, you know, so I think what you have to do is, you know, right now at my, one of my favorite new mottos is we have to think outside the box while remaining inside your home. You know, I think it's always about getting creative. So one of the things that I think is so important is getting support. You know, also many emotional support services are now available online or over the phone. Those efforts to shift away from face to face counseling, you know, in the time being has made access to counseling and support services, so much easier to obtain. You know, so I would say, you know, it's not always easy to do, but don't be afraid to ask for help.
Adam (07:20):
That's right. That's critical. You know, reaching out, asking for help, letting people know what you need during this time because it's, you know, it's hard to know when we're, when we're separated like we are. Right.
Adam (07:31):
You know, this is not only a scary time for breast cancer patients, but also, I imagine it's a really hard time for caregivers that are not able to provide the same levels of care and support that they're used to giving their loved ones that may be in isolation, may be separated from them. So can you talk a little bit about what is, what this is bringing up for caregivers and how they can continue to best support their loved ones?
Marissa (07:53):
So I'm so glad that you brought that up. Being a caregiver can actually be very rewarding, but it can also be a very stressful. So, you know, in these challenging times, especially caregivers may feel that they are not able to fully be there for their loved ones, you know, in the way that they're used to, you know, so they may be used to checking in with family, giving them a hug or you know, just being there with them. And again, social distancing changes the way caregivers can support their loved ones too. You know, this could bring about a lot of guilt, sadness, or anxiety. You know, they may feel out of the loop and less connected with their loved ones. So there still are ways to feel like you're contributing and you know, still ways to be there for your loved one. I think it's important to just stay connected more than ever. And one of the biggest things you can do for someone I think is simply listen and be there for them in that way. You know, it may not sound like a lot but it makes a huge difference.
Adam (08:54):
That's right. I mean think really just text messages, checking in. Letting people know that you're there on your radar really makes all the difference in the world during this time. And so I've gotten more texts from friends that I have normally maybe don't get a lot of texts from because we're all too busy or whatever else. And that's really meant a lot. So I think that's important for us to think about. So my last question is, how can listeners reach the breast care helpline and how else might they be able to support those in the breast cancer community that are impacted by this crisis? So the Komen helpline is available Monday through Friday, 9:00 AM to 10:00 PM eastern time and you can call us directly at 1 877 GO KOMEN that's 1 877-465-6636. You can also email us. Our email is helpline@komen.org and I really welcome everyone to contact us no matter how big or small they think the question is, you know, we are here to help.
Marissa (09:58):
I love that. One of the biggest ways I think you could support the breast cancer community is, you know, to keep this a priority in our minds, you know, we need to maintain this focus, especially in these very scary and unprecedented times. Komen has recently established the Komen COVID-19 action fund to support the urgent needs among the breast cancer community today. And this will ensure that this support continues. So the fund actually helps support services like the breast care helpline, for example. It also helps support other services including Komen's treatment assistance program, advocacy and research efforts. For more information on that, you can go to Coronavirus.komen.org
Adam (10:46):
That's fantastic. Well, Marissa, number one, thank you for the work that you're doing to support the breast cancer community, especially during this particularly crazy time. And thank you for just taking the time to come on the show, answer our questions, and just help us to be a little bit more informed and I really appreciate everything you do.
Marissa (11:06):
My pleasure. Thank you so much for having me.
Adam (11:09):
Thanks for listening to Real Pink, a weekly podcast by Susan G Komen. For more episodes, visit real pink.com and.org for more on breast cancer, visit komen.org make sure to check out at Susan G Komen on social media. I'm your host Adam. You can find me on Twitter @AJWalker or my blog, AdamJwalker.com.
Sponsors
Thanks to Genentech for supporting Real Pink. To find out more about Genentech's latest research advancements, visit gene.com. Intro and outro music is City Sunshine by Kevin MacLeod. Ad music is Blue Skies by Silent Partner.