It takes a village to balance the rigors of breast cancer treatment with the obligations of life. Knowing how to support as family and friends, and connecting with others with similar experiences can be a helpful and practical tool.
In this episode, Titus O'Neil shares the story of supporting his grandmother through her journey with breast cancer, and how friends and family can provide encouragement to their loved ones.
Titus is a WWE superstar, influencer, entertainer, and dad to two amazing sons.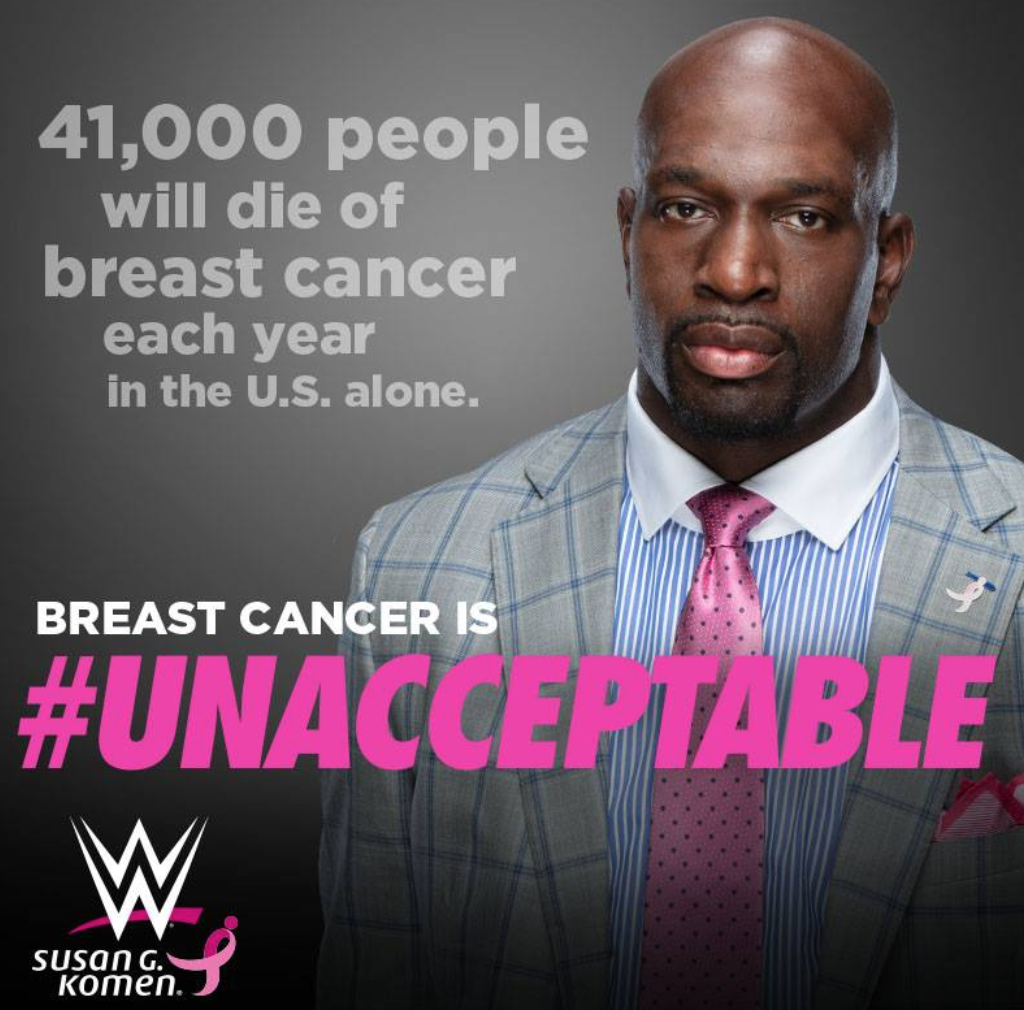 About Titus
Thaddeus Bullard is a professional wrestler, actor, TV host and motivational speaker, best known as "Titus O'Neil," one-half of the former World Wrestling Entertainment's, World Tag Team Championship duo, "The Prime Time Players."
At a very young age Thaddeus realized that being successful and helping others was important to him. From that point on, the pursuit of excellence and altruism have been the key motivators in his life. In high school Thaddeus was a football All-American. He went on to become a star defensive end for the University of Florida, helping lead the Gators to the 1996 NCAA College Football National Championship.
Thaddeus also played professional football for the National Football League's Jacksonville Jaguars and in the Arena Football League. He debuted with the WWE in 2012 and has since become a fixture on WWE programming, including RAW, Smackdown and WWE Divas as well as in marquee WWE pay-per-view events such as Wrestlemania and SummerSlam.
Thaddeus' family and charitable work are key aspects of his life outside of the ring. He and his two sons were recently featured in the Ad Council's national "Take Time to Be a Dad" campaign and in 2015, Thaddeus won the MEGA Dad Award for Celebrity Dad of the Year. He is also active in many charitable organizations, including the Special Olympics, the Wounded Warriors Project and the WWE's "Be a STAR" anti-bullying campaign.
Transcript

Adam: [00:03] From Susan G. Komen, this is Real Pink, a podcast exploring real stories, struggles and triumphs related to breast cancer. We're taking the conversation from the doctor's office to your living room.

[00:17] If you've ever received a breast cancer diagnosis or know someone who is experiencing breast cancer, you know it takes a village to balance the rigors of treatment with the obligations of life.

While you may receive support from friends and family, it can also be helpful to connect with others who have gone through or are going through similar experiences with breast cancer.

Today we have a special guest – Titus O'Neil. Titus – thanks for joining us on the show. Can you share a bit of your story?

Titus: [00:55] My name is WWE Superstar, Titus O'Neil. I am a proud graduate of the University of Florida. I am a proud son to a mother that has four sons, a single mother that raised four of us under some very unfortunate circumstances. But being able to live out those circumstances have given me an opportunity to have a better perspective of not only who I am as a man, but what I'm capable of doing with others when we all work together as a team. I do a lot of work in the community, both the Tampa Bay area and beyond. Most of the causes that I get involved in translate throughout my life experiences that I've had with various issues and causes, both inside and outside of WWE. One of those is breast cancer awareness so this partnership is dear to me simply because my grandmother, Gloria Brown, passed away from breast cancer in 1995. It was a heavy, heavy blow to our family and especially to me because my grandmother kept me involved in sports, wanted me involved in sports, loved sports. It's funny, you know, now in 2019, I am a WWE superstar, which is something that me and her enjoyed watching on television when I was a kid. So this partnership and work that we've been able to accomplish with Susan G. Komen, not only from an awareness standpoint but also from a fundraising standpoint, has been exhilarating not only for me as well as many others, but I also have met some very phenomenal people, both men and women, through this process over this last few years with this partnership. So, I'm very excited to be on the podcast and I'm very fortunate that I have an opportunity to be a guest.

Adam: [02:56] We're really glad to have you, Titus. It's really an honor to chat with you today. Can you kind of recount for us a little bit what was most helpful to you and your family in terms of balancing the rigors of treatment with kind of the life obligations as you sort of walked through that process with your grandmother?

Titus: [03:10] Well, we didn't have many resources. I come from a single parent home so the resources as far as counseling and treatments and things like that, we literally were getting bare bones of all of that. So it was very trying on my family, very trying on me in particular because like I said, my grandmother was very, very close to me. When so many others thought that I would be lost in the system when it comes to being a productive citizen, because I was a kid that had a lot of issues as a kid with my behavior and my attitude and lack of respect, but the one person that I did respect the most was my grandmother, and so when I got the news about her being diagnosed with breast cancer and then having to go through the process of really seeing her pass away very quickly once she was diagnosed. There was no time that she had a real fighting chance.

Adam: [04:15] That's really tough. I can only imagine how difficult that must have been. Related to that difficulty, can you talk about the helpful and meaningful things that people can say or people can do to support someone or support family members of someone that has breast cancer?

Titus: [04:33] Well, the thing I've come to find is that most of the time it's the person that's suffering from breast cancer that's giving all the words of wisdom. So I would just always constantly reiterate to the families, the friends that this is the moment for everybody to come together, come draw closer together. Not only for that loved one, but for other people that may be suffering from various issues, especially breast cancer in particular because you have a loved one that you're watching go through this process. That's why people get involved with the runs. That's why people get involved with the walks. That's why people have pink bra contests as guys and all sorts of other events, because it is personal to them. And so when you have the opportunity, whether it be a loved one or relative of your own or somebody else's, it just draws people together instead of breaking them apart. You never would have wished or hoped to be a part of but you're very thankful and grateful that you did.

Adam: [05:40] That's right, really well said. Last question for you here. What advice would you give to people that are diagnosed with breast cancer or have a loved one that's diagnosed with breast cancer related to sort of balancing life with treatment and routines and things like that?

Titus: [05:54] I will first and foremost try to tell them— I'm a big man of faith always, so whatever your faith is, try to grow stronger and closer with that relationship with that faith. That definitely can help get you through, knowing that you have the ability to kind of think and will yourself out of some situations just as much as you do worrying. Worrying will never help the situation whatsoever. Whatever you did before you were diagnosed, continue to do that. One, it keeps you sane and keeps your mind young and keeps your body going. Very beneficial to yourself as well as others. If you were working out before you were diagnosed, continue to work out. If you love to cook, continue to cook or (inaudible 06:33) the people around you that, "Hey, even though this person had been diagnosed, this diagnosis hasn't stopped him. If anything, it's motivated him to do more."

[06:55] So take that diagnosis, not only for the individual that got diagnosed, as an opportunity to grow but also as an opportunity for the people around you to grow and try new things. Try doing things that you said at one point you didn't think you could, try them— Because the reality of it is that if you allow anything in life, whether it be breast cancer or some other tragic incident or a diagnosis hinder you from living the most gracious life you possibly can, then you have already put the handcuffs on and said, "All right, I've had this diagnosis," or, "This person has been diagnosed, our time is limited." Don't say that your time is limited because it's not.

[07:44] Just as many people that are diagnosed, you'll see numerous cases of others that were diagnosed, that beat cancer, numerous times. Unfortunately, yes, there have been those that have not conquered the fight, but the relationships that were built because of that person and the money that was raised, the awareness that was raised, the understanding of what types of breast cancer someone can have or not have, the treatment options, et cetera, it's an educational opportunity for everyone too. So breast cancer has never been—for me—the end all be all, the diagnosis. When that person's gone and now you have to pick up the pieces and and figure out how am I going to move on without this loved one, friend? How am I going to help others around them? The kids that are left behind, the husbands that are left behind, the brothers, the mothers, et cetera. How am I the individual that did these walks, the individual that did these fundraisers, the individual that stood by his or her bedside, helping her, feeding her or him or whatever it may be for this extended period of time, how am I going to move forward? And I think a lot of people draw strength from seeing people that have went through the fight. If there is a beautiful part of this situation that would be it, that people do become stronger and they come to become stronger in their faith, they become stronger in their minds and some of them become stronger in their bodies.

Adam: [09:16] That's right. Wow, that's really well said and fantastic. Well Titus, this is really been great. I really appreciate your perspective and just kind of giving us a glimpse into your own personal life and thanks for taking a few minutes to share that with us today.

Titus: [09:32] Thank you for having me on.

Adam: [09:38] Thanks for listening to Real Pink, a weekly podcast by Susan G. Komen. For more episodes, visit realpink.komen.org. And for more on breast cancer, visit komen.org. Make sure to check out @SusanGKomen on social media. I'm your host, Adam. You can find me on Twitter @ajwalker or my blog, adamjwalker.com.

Sponsors
This podcast is sponsored by Sideways8, an agency on a mission to improve communication through digital marketing.