Many of us are searching for ways to lead and create the positive change the world needs right now. While the problems of the world are too great to solve alone, there is no challenge we cannot tackle together.
On today's episode, Emily Poeschl joins the podcast to discuss "finding your fierce," and being a catalyst to create social change related to breast cancer.
About Emily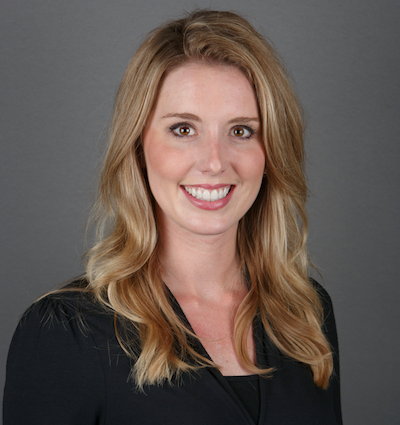 Emily Poeschl is a breast cancer co-survivor and quickly became deeply involved with Susan G. Komen soon after her mother, Cindy, was diagnosed with triple negative breast cancer in 2014. Emily's aunt, Nancy, is also a survivor.

Emily serves on the board of Susan G. Komen Great Plains, is a Komen Advocate in Science, and is a member of the Komen Advocacy Advisory Taskforce. She is a champion and advocate for research funding as well as access to care for underrepresented populations. She has made five trips to Capitol Hill over the last few years to advocate for NIH research funding increases and key policies and legislation focused on access to screening and care.
Emily has a Bachelor of Science in Business Administration from the University of Nebraska—Lincoln, a Master of Business Administration from the University of Nebraska at Omaha, and recently completed a Graduate Certificate in Public Health from the University of Nebraska Medical Center to help inform and support her volunteer work with Susan G. Komen. Professionally, Emily is a Marketing Strategy Manager at Mutual of Omaha. She is involved in various other community organizations, serving on various boards and committees for causes important to her. Emily's community involvement and professional achievements have been recognized by numerous organizations including being recognized as one of the Omaha Jaycee's Ten Outstanding Young Omahans in 2016.
Transcript
Adam: (00:00) Dr. Martin Luther King Jr. noted life's most persistent and urgent question is: "what are you doing for others?" Volunteer leaders play a critical role in addressing some of our society's biggest challenges, including fighting the devastating disease of breast cancer. And many of us are searching for ways to lead and create positive change the world needs right now. All it takes is finding your fears. While the problems of the world are too great to solve alone, there is no challenge we cannot tackle together. Are you ready to find your fears to help us learn about creating social change? Please help me welcome Emily Poeschl to the show. Emily, thanks for joining me.
Emily: (00:40) Hello! Thank you for having me.
Adam: (00:41) I love this phrase, find your fierce. I think you're going to tell us a little bit more about it, but before we do that, tell me just a little bit more about yourself.
Emily: (00:51) Yeah, so I am a co survivor. My mom is a now five year. This summer we're subbing five years of survivorship of triple negative breast cancer. My aunt is also a survivor. And I'm in high risk. I have 10 female cousins on my mom's side of the family. And so I want to be able to not only represent myself, but other women who are high risk, selfishly my family members who are high risk but also help to get younger women. I'm more informed about how they can be an advocate for themselves as well as an advocate for others in their family when they are faced with cancer. Professionally. I'm a marketer. I've got my MBA and actually finished a certificate in public health last summer to help compliment a lot of the work that I do for Komen. So just kind of an extra degree I got from my volunteer activities. Yeah. But it really helped me understand like population health. Just a really any kind of project I did was I was tied my Komen work into it so I could better understand a lot of the underserved communities here in Nebraska and across the country.

Adam: (01:58) I love that. I love that. And it's always good to talk to fellow marketers. So we'll have more to talk about later on. But, not derailing the conversation. How did you find your fears to drive change and make an impact?

Emily: (02:11) For me, I had not really done a lot of community involvement, volunteer work until I was in college. I was Miss Nebraska USA 2006, so usually Susan G. Komen was actually our national cause that year at Miss USA. So I had a little familiarity with Komen.  I was able to get involved in my community and then later on in 2014 when my mom was diagnosed with breast cancer, I knew from her diagnosis, her second opinion, which actually was critical to figuring out that she had triple negative, that every piece of that there was really critical research that had to happen to make all of the diagnosis, the treatment. And now her ultimate survivorship happened. So did some quickly found our local Komen affiliate and started a team what was then race for the cure team and race quite a bit of money pretty quickly.

Emily: (03:08) So our executive director called me and said, who are you? Where did you come from? So she quickly invited me into the office. I got to know a lot more about our local affiliate and not just the research part of it, but also about the local impact that our affiliate has here within Nebraska. And our great Plains affiliate also includes South Dakota and North Dakota. So I got to know just a lot about the great work that they're doing related to education, access to diagnosis to treatment, survivorship programs. And I, I was hooked from that conversation and I'm a go getter. I will always say yes if somebody asks me to do something. But long ago I did learn that I really have to focus on things that mean a lot to me. Yeah. When I came out of undergrad I was saying yes to everything. I just want to, I thought I was building my resume, but I realized I really have to have a personal connection.

Emily: (03:59) I have to have a passion for what I, how I'm spending this personal time, my volunteer time that I'm not getting paid for. Right. So I really had to be smart about that. And after learning about Komen and the impact that Komen has across the entire continuum of care, I said, count me in. So after that I was able to just learn a lot more about how to be fierce, not only for myself, but also for my mom. Right? She was going through treatment. Our family is very competitive, so I think taking on cancer was an easy one for us to say, we're doing this. You don't have much time to really be sad, because you're trying to make all of these really fast decisions, especially for our family anyway. And so we just knew we're gonna do this as a team. So I was along my mom's side, the whole way.

Emily: (04:48) She actually had her second opinion up in Seattle. And so making trips up there, and cheering her on along the way and just making sure that when she got information, just as someone who has cancer, she's taking in so much information, overwhelmed. So making sure you're armed with information, but that it's also accurate information. And that there were nights when my mom would call me and she's diving too deep into message boards and, and kind of getting into the really scary stuff, right? Kind of explaining to her that, you know, the people who are doing great aren't always on those message boards who aren't as scared, aren't there. So really trying to help her keep a clear mind about things and ready to tackle it. So she was, she's my inspiration and to this day for everything I do for Komen and now as a board member of our local affiliate, I get to meet all of the amazing women who are affiliate impacts here in Omaha and beyond. And so hearing their stories is really special  to have that privilege and to help represent them. I'm an advocate in science, so that helps me give a survivor or a coast survivor of human perspective on the work that a lot of our researchers are doing. And then when I go to Capitol Hill as a member of our Komen advocacy task force, I get to tell my story. I get to tell my mom's story.
Adam: (06:16) Wow. Give that personal view on what it's like for someone who is going through this.
So as I understand it, you're a Susan G Komen affiliate board member, a team member, a I S member race walk team captain and top fundraiser. Did I miss anything there? Cause that's, that's quite a few this year

Emily: (06:31) Actually I added on for the More Than Pink walk. I'm out a coach or other captains for the lungs, so I get the chance to call lots of other really exciting fundraisers.

Adam: (06:44) You're doing a lot and that's amazing. So how is it, like, how do you go about thinking about this and how do you make it a priority to sort of get all of those things done?

Emily: (06:52) I think for me it's personal. And that's why it is a priority for me. I've got a finite amount of time of how I want to spend my time in the evenings or on the weekends or lunch hours. So for me, going to a board meeting or picking up the phone and talking to a team captain about encouraging them to fundraise is easy. I think you really got to have the passion and also the support, especially from our local affiliate. The team there is incredible. And so, I think they are a great support system to all of us, all of the volunteers, not just me. There's a lot of us who are helping to move Komen's work forward, locally as well as nationally. Working with the staff at headquarters is pretty fun too. It comes down to it's personal and you have to have a passion for it. So it's easy for me to say, you know what, I can spend some time on this.

Adam: (07:45) And so, you know, considering the, the amount of time that you spend, like what's the most rewarding part of being a volunteer leader? Talk me through that.
Emily: (07:52) I really do think it is being able to hear the stories about how locally the grants that we have given have helped women go get a diagnosis. I think it's that access, especially to those underserved populations who otherwise wouldn't have the time or the money or the transportation to have access to those things. I think that's really meaningful to me. And then, yeah, as well as like I said, going to DC on the common advocacy days and getting to talk to all 11 congressional numbers from Nebraska, South Dakota and North Dakota and feeling like they're listening to me and their coal, sponsoring the bills. I'm asking them to co sponsor, so I feel like no matter at what scale that someone gets involved, your time, treasure, talent, no matter what amount that is, is useful and will help in no matter what kind of way you want to contact your local affiliate, ask them what committees, there's events coming up. We've got October's coming. So contact affiliate, they will be more than happy to find ways for people to get involved at whatever scale that they want to.

Adam: (09:07) Oh, that's fantastic. I love that then. And that that really is the call to action here is if you want to be involved, contact the local affiliate. They're doing great work on the ground that really impacts your local community, but then also impacts the greater whole of the organization and really of the nation in the world as well. Right.

Emily: (09:25) Definitely. And for me, following your local affiliate on their social media channels as well as Susan G Komen as a whole. Yeah, a great way to stay informed about the latest advances in research, the latest grants that have been funded, whether they're community grants, research grants, a great way to stay connected as a whole. So then even if you may not have the time in the evenings or the weekends, like, like I do, sometimes you can share an article, you can share a nugget of information that you learned from the Komen's website so that you can help educate others, help empower others, make them more aware of Komen's huge impact.

Adam: (10:03) I love that and that's such a great point. Yeah. I don't think about it sometimes, but sometimes the best thing we can do as volunteers is just share a post, just share information. It's so easy. It takes five seconds or less. We just retweet it. Hit the retweet button. Right. Yeah. Well, Emily, this has been so great. I really, I love your enthusiasm. I love what you're doing to make a difference in your community in a really appreciate you coming on the show and sharing that with us.
Sponsors
Thank you to Dragon Army for sponsoring this episode.