Real struggles.
Real help.
Real courage.
Real Pink is taking real conversations about breast cancer from the doctor's office to the living room. Hosted by Adam Walker, episodes feature candid conversations with survivors, researchers, physicians, and more. Find answers to your toughest questions and clear, actionable steps to live a better life, longer. At Real Pink, compassionate storytelling meets real inspiration, and real support.
Breast Cancer Resources
Find the information you need.
Risk Factors
Understand the factors that may affect your risk of getting breast cancer.
Screening & Detection
Screening tests are used to find breast cancer before warning signs or symptoms.
Diagnosis
Learn about the process of diagnosis, follow-ups, and factors that affect prognosis and treatment.
Treatment
Learn about treatment for early and locally-advanced breast cancers (stages I, II and III).
Financial Assistance
Here you'll find resources to help with financial concerns.
Tools and Resources
Here you'll find information about our helpline, as well as resources and interactive tools.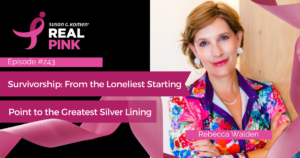 When active treatment ends and the last appointment is over, you are feeling many emotions. Normal is nowhere on the list. This is a point upon which most everyone can agree – there has been a great deal written about the harsh reality patients face when treatment ends, and even that word – patient. You really are no longer a patient, and that in and of itself requires a mindset shift. For all these weeks and months of treatment, a patient is all you have been. And now you're back to your Before Life. But nothing feels like Before. Today's guest felt ill prepared for the abrupt end of treatment and the challenge of jumping back into the rhythm of what her life looked like before breast cancer. She thought about what she wanted her survivorship to look like and found a way to take something painful and turn into something purposeful. Rebecca Walden is here to share her story with us and how she now writes about her experience to help, inspire and heal others.
Listen Now

→
Join Our Mailing List
Get the latest breast cancer news and information, and updates about Real Pink.